This is Ronin's story. A gentle golden tabby Highland Fold boy, who never had a chance. 😿
Hi everyone. I wanted to share my experience with my first ever purebred Scottish Fold. Just to serve as a warning to anyone looking at breeders. Watch for red flags and listen to your gut like I failed to do and you will be better off. I won't mention the cattery name but she is here in Florida and you can click here for more details.
Here's my story:
Found her cattery online when searching for Scottish Fold breeders in Florida. Saw a little golden tabby long-haired baby on her Facebook page and fell in love with him.
---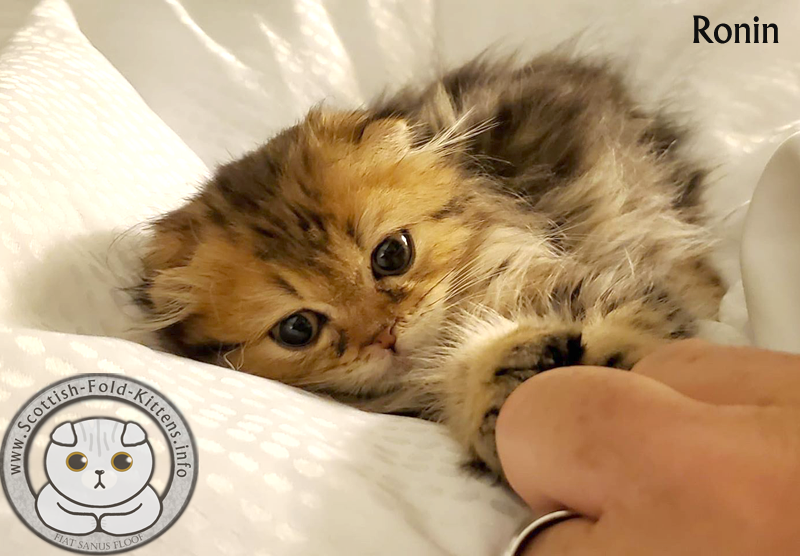 Ronin
A Highland Fold
born: September 25, 2019
No pedigree papers, although from a TICA Breeder. Supposedly because her cats are only sold as pets. But a cat's papers are a part of their identity. 🚩
Father: unknown
Mother: unknown
Breeder claims she can't keep track. Suspected Fold-to-Fold mating.
9 November 2019 – sent $500 deposit (+$14.80 paypal fee) so we could schedule a meet up at her house to view our chosen kitten in person. She wouldn't allow us to make the 7 hour drive one-way without a deposit! There were several females with litters all in cages in a bedroom, but she assured us that they were allowed to come out of the cages on a regular basis and some females stay with her friends.
25 November 2019 – sent remaining amount of purchase price ($1900) – $1400 (+$40.90 paypal fee). Agreed to pick up kitten after our cruise on 21 December 2019.
14 December 2019 – Contacted her to let her know that we were boarding the ship. She said our kitten and his litter were all sick with "head cold but not in chest" and she had taken them to the vet 10 December 2019 for his health certificate, but not to worry as they were all on antibiotics.
21 December 2019 – 8am, we disembarked the ship and I texted her to see if kitten was ok for us to drive all the way up there to pick him up at her home. She said "yes ma'am" so we made the drive. Upon arrival, she sat us down and explained that he took a turn for the worse with his Upper Respiratory Infection (URI) and had lost a lot of weight. She took him to a nearby vet as her regular vet is a longer drive and that vet administered a 14 day antibiotic shot and said "he has a 50/50 chance of survival". His weight was 1.75 lbs.
She pulled him out of a nebulizer and handed him to me. He had watery eyes, nasal discharge and was wheezing/congested. He also had a couple of spots on his chin and lips that turned out to be feline acne, no big deal. He seemed to be in good spirits despite being sick and since I was a prior vet tech and URI's are VERY common, she said she was ok releasing him to us.
She said she could keep him another week if we wanted, just till he was over this URI, but we'd already driven 7 hrs and I've nursed lots of kittens through simple colds so we took him. She provided a hand-written health certification with one set of shots given at 9 weeks of age on 10 December 2019 as well as a gift bag with food and toys. No Felv/FIV test was administered.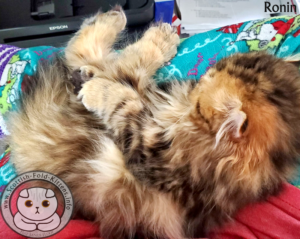 Stayed in a hotel that night because we were exhausted from the drive. He ran and played and ate and used the litter box so other than his URI symptoms, seemed ok. Noted that he didn't try climbing or jumping and he had a weird gait, but chalked that up to him being sick.
22 December 2019 – Driving home he slept most of the way and sneezed a lot. Texted her and she said "I told you I could keep him another couple of weeks for you" but we were already halfway home and again, I figured this was a simple URI and he'd be fine.
23 December 2019 – Took him to our vet, as indicated in our contract (must be seen within 72 hrs). Vet said yes, URI is present, but the injection may not have been specific so gave us 14 days of Doxycycline and eye meds as well as antiviral Lysine for him and our other 3 cats since URI's are highly contagious.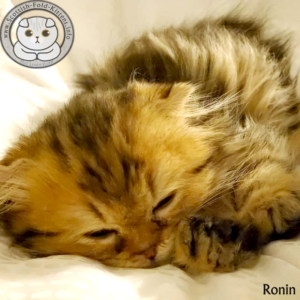 7 January 2020 – 14 days of antibiotics were completed, but he was not any better so took him back to my vet. She put him on another antibiotic and I noted that he had crusty lesions on the tip of his tail as well as his feet. Diagnosed with Ringworm and given Lime dip. Also, he was digging at his ears, vet gave ear meds and suspected mites. Ears were VERY dirty.
9 January 2020 – Kitten got MUCH worse. Screamed in pain whenever handled. Walked hunched over for a few steps and then would collapse on his side. Wouldn't eat or drink. Took back to the vet for a 3rd time in less than 3 weeks. Vet said with his short, abnormally thick tail, small legs, splayed feet, and symptoms, she suspected Osteochondrodysplasia or "OCD" but would take x-rays to confirm.
He never once tried to climb or jump up on anything like a normal kitten would. Confirmed diagnosis of severe OCD after several x-rays were taken. Put on Buprenex pain meds and said he had a poor prognosis and quality of life outlook.
10 January 2020 – He barely moved even on the Buprenex but seemed to walk a little better in the morning. By 10 am he was hunched over and screaming again when touched. Dosed again with Buprenex. He refused to move, wouldn't leave his carrier and I had to carry him to food and litter boxes. Barely ate. Once in litter box, would pee and then collapse.
Called vet and she advised to euthanize at this point. Made the heartbreaking decision that we could not watch him suffer and humanely euthanized. This completely devastated me and my family as I've always dreamed of a Scottish Fold kitten and to have one for only 3 weeks and was sick the entire time was just a nightmare.
Had kept in contact with the cattery along the way the entire time and she sympathized and said she had no problem with honoring the replacement/health guarantee in her contract. She also told me to euthanize him and refused to take him back, even though her contract required return. She said she would "gift" us another kitten, but in reality, this would just be a replacement as stated in her contract. She said she'd spay the mother of our kitten.
Her website states that she is all about the health of her kittens, but she does not PKD and HCM scan them all and when I asked to see those results on the parents of the kittens she sent me to consider as a replacement, she said they weren't done but I could pay $500 for them if I wanted to.
After shelling out $1900 ($1950 if you count the fees) and another $500 in vet bills over 3 weeks, she wants ME to pay for health screening of the parents of a replacement kitten? She absolutely REFUSED to give me a refund and said that if I wasn't interested in the 2 male kittens she currently had, I could wait another 5 months for new ones to be ready.
I'm out more than $3000 and cry every day over my little baby and I had NOTHING from her but,
I'm sorry, this is the contract you signed and most breeders wouldn't even offer you a replacement so I'm being generous.

– Ronin's "Breeder"
No, you're legally BOUND to provide at least a replacement!
To add insult on top of injury, the $450 area rug we bought 2 yrs ago was covered in urine, because he couldn't always make it to the litterbox, and I had to rent a steam cleaner for that, plus the furniture and bleach all of our floors due to the Ringworm infection he had (that I also now have). I also have to watch my other 3 cats for signs of it.
I was then pointed to a complaint made online by someone last month saying she sold her a sick kitten as well and it also had Ringworm AND mites. She misrepresents the health of her kittens and breeding females, keeps them locked in a bedroom in cages, and farms them out to her friends to breed and breed. She can't remember who the father of the litters are, their birthdates, or anything. Frankly, I don't even KNOW who the parents of my kitten were because I can't believe a word she says.
She lied to her vet's office (according to the report I received from them, the vet called her on 20 December 2019 asking for an update on my kitten and she said he was totally fine and not congested. I picked him up the next day and she handed him to me straight from a nebulizer and he was SUPER congested. I have text messages to prove that).
She lies to cover her ass. I have proof in texts that she admits to having ringworm in her cattery, yet told the former complainant that there was NO way the kitten contracted it there.
Had several text conversations with her asking about a replacement since she refused to refund. She only had 2 males available and they were at her friend's home being raised there. She sent me photos and videos and I chose a blue, short-haired tabby.
18 January 2020 – Made the 14 hr round trip visit to her place again to pick up the replacement kitten. Travel to her place 3x now has cost me well over $500. She was very sweet at the beginning, but as soon as I said I was NOT signing another contract, she went into a tirade (while smiling the entire time) about how this kitten would not be covered if something happens with his health, she would ignore a judgement against her in court if I sued her with the state law and would NEVER pay me a dime, she'd rather QUIT breeding Scottish Folds than ever refund me one penny and it's all about principal with her now.
She claimed the original contract would extend to this new kitten (I contacted an attorney and the language in the contract does NOT state it would extend to another kitten or that I'd be obligated to sign another contract for a replacement). She got really rude with us and tried so very hard to get me to sign a new contract. I refused and left with the kitten.
This kitten developed runny eyes the very next day and I had already had a vet appt with my vet to have him checked out. Again, URI. Put on 14 days of Doxy. Another $85 spent. He is terrified of regular household noises like the microwave beeping or the dishwasher turning on.
He seemingly has never seen a man before because he runs from my very gentle husband. He does run, jump and climb and now I'm reminded of just how bad off my first kitten was because he would never be normal, nor ever acted normal.
She is the epitome of a backyard breeder. She doesn't care about these cats, nor the people she sells them to. All she cares about is the almighty dollar and she has made that perfectly clear! Please NEVER buy a kitten from her. And if you do, do NOT sign her contract waiving your right to the Florida Pet Lemon Law.
That screwed me with my first kitten and you can see how important it is to her to have you sign away your rights to sue her. She was all sweet until that moment. Even said how much it broke her heart about my kitten and how it has never happened to her before and that she initially considered not breeding anymore, but her vet told her to continue since my kitten was a fluke. Bullshit.
He was never fit to be sold in the first place. No one will ever replace him and I would've rather just had my money refunded so I could go to another REPUTABLE breeder and chosen a kitten I really wanted instead of having to choose from only 2 or wait almost a half a year.
Oh and she just purchased FIVE French Bulldogs to start a breeding program so be aware of that too. She has multiple FB and IG pages under different names and changes them often. Just be extra diligent when researching breeders and never sign away your rights to state law.
The vet at the Department of Agriculture said that is the biggest red flag she's ever seen. And the breeder's vet is her buddy. How she could certify that my first kitten was healthy and then prescribe antibiotics on the same day the health certificate was issued is beyond me. Do not trust her!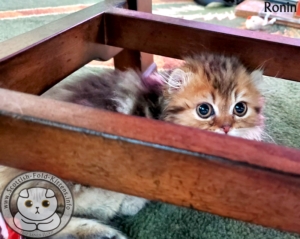 ---
---
Note from Barbara Lynne
If you are someone who is hoping to get a cute and lovable Scottish Fold kitten, you just don't expect to be confronted with the depths of the human soul. You aren't prepared for people who put the almighty dollar above the health of a beautiful, feeling and innocent living being. But such people are definitely out there and Ronin's "breeder" is not the only one!
Because Mel cares deeply about animals and was willing to share her experience with us, we can learn from it. Let's consider some of the red flags:
The "breeder's" Facebook page is a one-way street, the ratings function has been turned off. She knows that what she's doing isn't OK and doesn't want people to be able to offer opinions that she can't delete.
She tells people that she does not provide pedigree papers "because the kittens are sold as pets" – although she's a TICA breeder! A major red flag – also in the case where a breeder only provides the pedigree papers for an additional fee. 🚩
It shouldn't matter if a kitten will just be pet, shown or bred – the pedigree belongs to a kitten and shows its heritage, kind of like our last names. The only reason not to issue one, is if she has something to hide from TICA, such as improper matings or too many litters per female per year, for example.
She does not test for PKD or HCM (or FeLV/FIV) although her website says she does. This is why I cannot stress enough how important it is to get copies of the test results before you commit to a kitten. If all that you're getting is excuses, there is something rotten in Denmark. Period.
Her kittens are sick (Upper Respiratory Infection, ringworm…). Never take home a sick kitten, especially if you have other cats. You may be putting their lives in danger. Apparently, she was banking on her clients not wanting to drive 7 hours each way and go home empty handed. A shrewd move.
I personally know of a BYB in a Facebook group I'm in who did not believe in vaccinating her kittens and placed them into homes. It turns out that they had feline leukemia, which is highly contagious. This is the reason why actual breeders get their kittens vaccinated. So, not only are you getting a kitten who is not long for this world, you could even end up losing furry family members as a result. Totally irresponsible and negligent.
Do not sign a contract which waives your state's "Pet Lemon Law" or any other legal recourse against unethical breeders. It's not normal to include such language in a contract and anyone who does should not be trusted. This is another red flag. 🚩 If they are not willig to strike out this wording where both parties initial the change, WALK AWAY.
Though not relevant in this case, never pay your deposit using the "Friends and Family" option on PayPal. Pay the fee so that you can recoup your deposit, if a contract does not materialize. The breeder in question here purportedly failed to refund a deposit of $1,000 in another case, where the person decided not to get one of her cats after it was clear that this breeder was not to be trusted.
My Question: How does someone who acts like a Backyard Breeder (by not testing or issuing pedigree papers) justify charging pedigree prices? This "breeder" has clearly based her business model on the suffering of helpless animals.
Also in Florida: Beware of a broker who might sell you a sick kitten who will break your heart, as in the case of Nova. 😿
So how can I improve my chances of getting healthy Scottish Fold kitten to love and cherish for years to come?
My tip: Find a good breeder – someone who is a member of a reputable association, someone who knows their stuff and is known on the cat show circuit. Or someone who is highly recommended in an online community, such as in a large Facebook group with hundreds of members. Because these are the breeders who have accountability for their actions. People know who they are and they have a reputation to lose. You should contact other members of the group privately who have bought kittens from them and get the real story.

Always ask to view both of your Foldie's parents – in advance via video chat before you commit to buying your kitten. Your kitten should live with its mother and siblings until adoption day – at the age of at least 12 weeks, better 14 or 16 weeks. Look for that one parent has straight ears and that none of the cats are kept in cages.
And of course The Checklist can serve as a guide when choosing a breeder. If you have any questions, please join the Facebook Group Scottish Fold Info Community for support. 💜
---
---