Here's Oleg's story. A sweet little Foldie boy from a Backyard Breeder.
We picked up Oleg on my birthday. He was just the cutest, most beautiful creature I had ever seen. He was 11 weeks old and from the beginning, totally curious and super sweet. Our two big cats loved him from the beginning, unconditionally. This little fur ball with huge amber eyes made our family happiness perfect. We all loved him. He was the center of our attention.
He was just always with me, followed me everywhere and told me when it was time for bed or when it was time to eat. 😂
---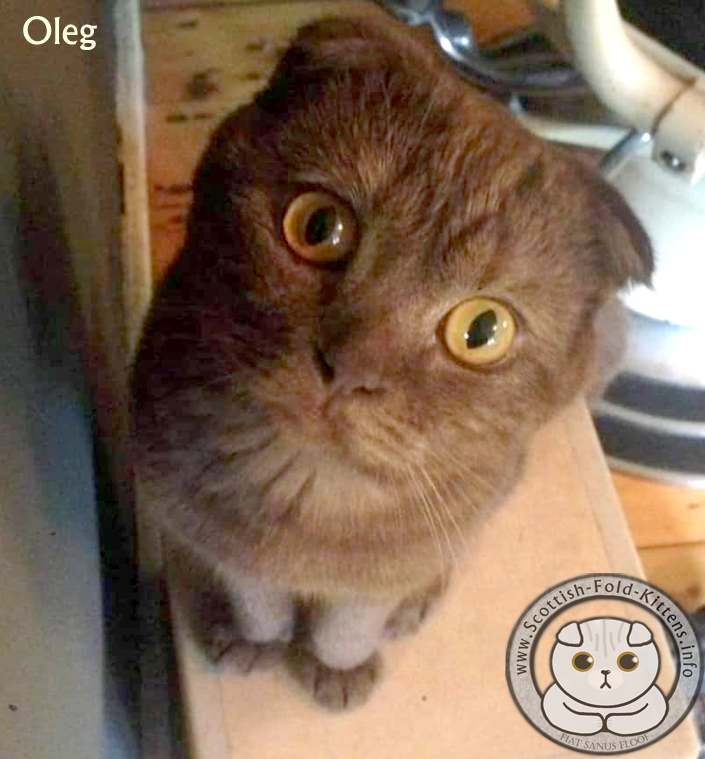 Oleg
born: September 1, 2016
No pedigree papers, from a Backyard Breeder (BYB).
Father: BSH (British Shorthair)
Mother: Scottish fold
---
He got bigger and less wild. By then, I had heard of OCD and had looked for signs. At about a year old we knew he did not have it. I was so happy. Now nobody could harm our little family and my Oleg. Oleg had become calmer, but also our other two slept a lot. When Oleg was awake, he talked to me a lot and although he didn't like to cuddle, he was just always with me. I always saw it in his eyes that we were something like soul mates.
Meanwhile our sweetie was 1 and a half years old and everything was great. He was healthy, so we thought. We took our boy for regular checkups at the vet's, everything was always topnotch.
He waited for my wife every day at 5 o' clock. Because she always came home around 5:10 and then he was always already at the door.
I was only about 6 feet away (2 meters) and heard him that we was already at the door and was playing with my wife's. Then she came in and called for her little Oleg, as she did every day:
"Ooooleg, I brought you some treats."
But Oleg was dead. His paws still held her shoelaces from playing. I was completely unaware what had happened.
He was only one and a half and we miss him so much. I can hardly bear it that it happened this way.
The doctor suspects it was a heart defect or possibly HCM or a stroke. Anyway, it seems that our little angel wasn't so healthy after all. 😔 Our hearts are broken. 😢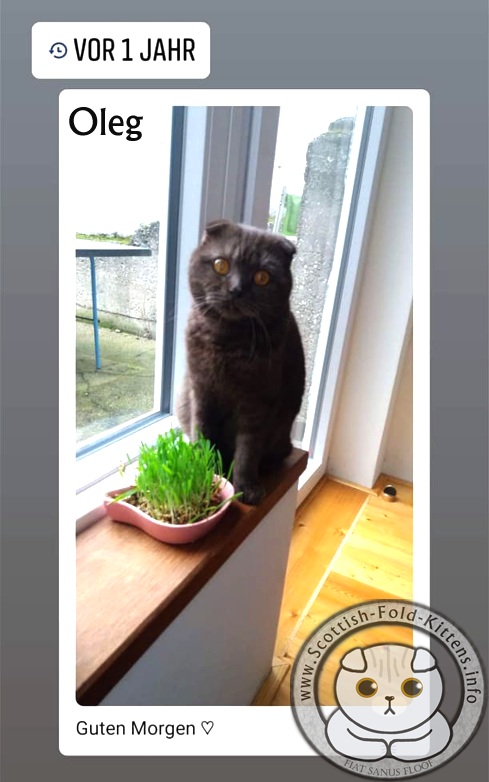 ---
---
Note from Barbara Lynne
We can't know for sure if Oleg was born with a hereditary heart condition – such as HCM – but it certainly could be the case. What can you do to make sure you get a healthy Scottish Fold kitten? 💔
My tip: Find a good breeder – someone who is a member of a reputable association, someone who knows their stuff and is known on the cat show circuit. Or someone who is highly recommended in an online community, such as in a large Facebook group with hundreds of members. Because these are the breeders who have accountability for their actions. People know who they are and they have a reputation to lose. You should contact other members of the group privately who have bought kittens from them and get the real story.

Always ask to view both of your Foldie's parents – in advance via video chat before you commit to buying your kitten. Your kitten should live with its mother and siblings until adoption day – at the age of at least 12 weeks, better 14 or 16 weeks. Look for that one parent has straight ears and that none of the cats are kept in cages.
And of course The Checklist can serve as a guide when choosing a breeder. If you have any questions, please join the Facebook Group Scottish Fold Info Community for support. 💜
---
---