I received my first cat from this cattery in November of 2018. I live in California and the breeder is in Florida. Luckily, I had a friend who had a business trip in the area and was able to pick Cosmo up for me and bring him home. He came with minimal issues and some that I'm afraid will develop later in life due to his cow-hocked legs. But for most part, he is a healthy and happy boy – gets occasional eye infections and has trouble jumping up to high places. Because of the good experience at the time, I decided to get my second Scottish Fold from this cattery as well.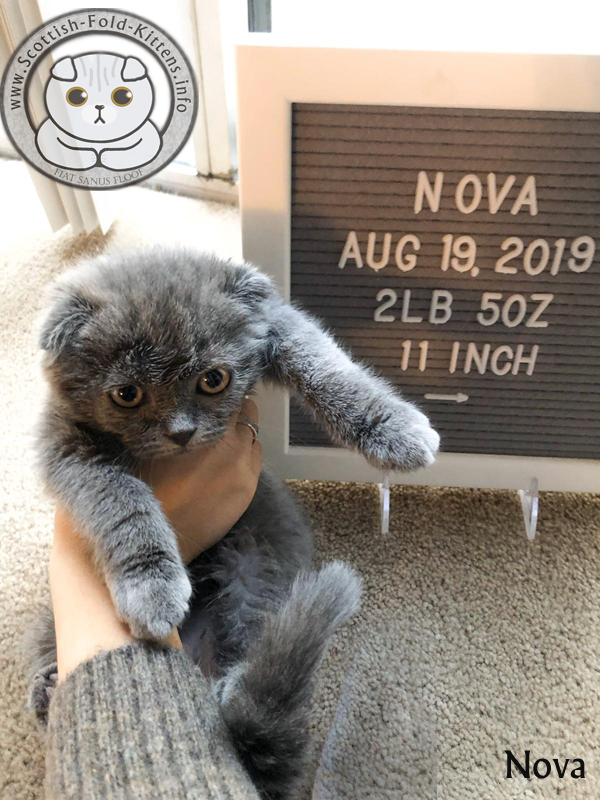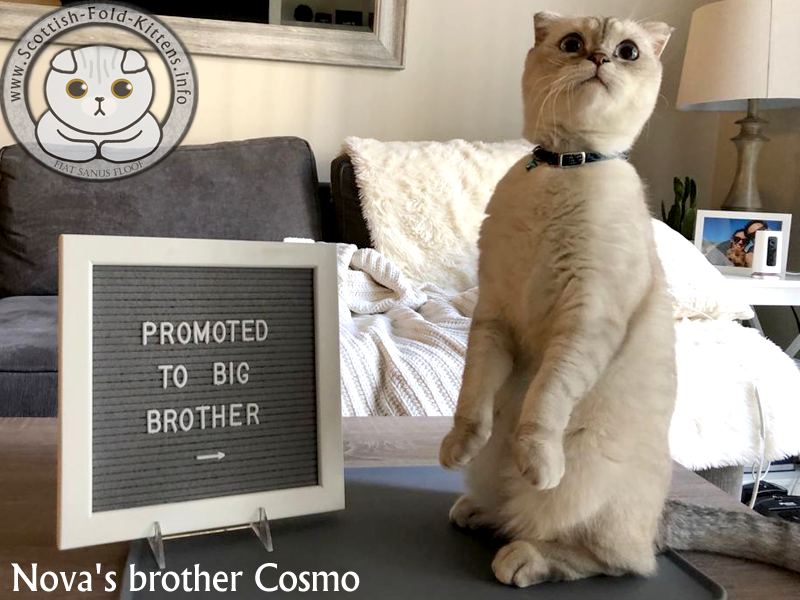 Once I'd decided on a new kitten, this time I decided to fly there myself and pick her up. I had a lot of false trust in her breeder but, looking back, the first red flag was that the breeder insisted on meeting me at the airport instead of at her home and she had sent her underage son to do the exchange. I saw the kitten and couldn't focus on anything else. I signed the contract, one that I read before with my first cat, took the cat, and went through security. I named her Nova and I was so excited to bring her home. It wasn't until I was sitting at my gate that I noticed some welts on the kitten's body. I immediately texted a picture of them to the breeder to ask what they were. She said she wasn't sure and sent me a picture of a foreign cream to put on her. Again, I had trust in her and didn't think much of it.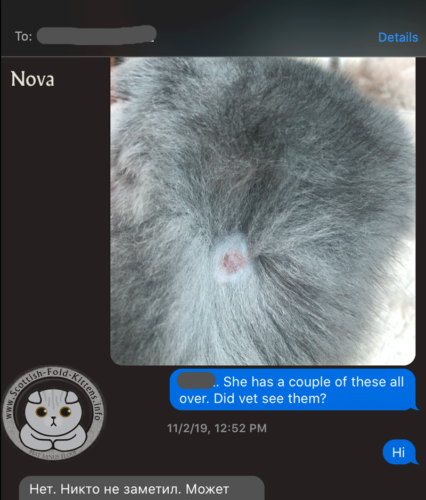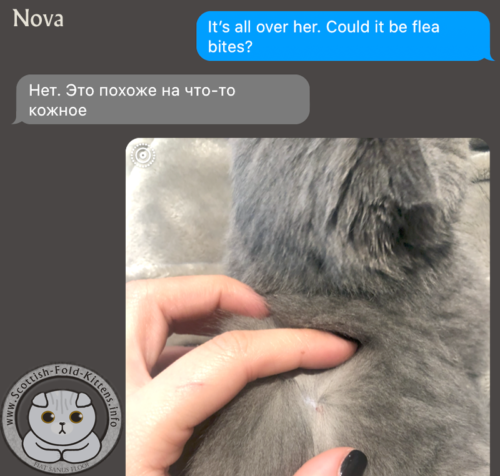 When we got on the plane and were in flight, the kitten began to vomit and have diarrhea. I panicked and bought internet on the plane to text the breeder. She told me that the kitten was probably stressed out and having motion sickness and not to worry. She told me what to feed her when I got home.
When I finally got home, I was able to take a bright light to Nova's body and noticed that the welts and scabs covered her body. There was no way this cream she recommended was going to be able to help. The more research I did, the more my gut dropped that all signs pointed to ringworm. I immediately texted the breeder with more pictures and diagnosis and that I was taking her to the vet the next morning – she assured me that it couldn't be and that vets don't know what they are doing and all they were going to do was overcharge me for something that it wasn't. But I knew not to listen to her.
After visiting the vet and doing a culture test, the results came back positive for a strain of ringworm and I was in panic. Although ringworm doesn't usually kill animals, it is highly contagious to other animals and humans and I had another cat, dog and spouse at home. I quarantined nova to a room and stocked up on gloves, medications, disinfectant sprays etc. to treat her without infecting myself. I reached out to the breeder who denied seeing anything on her body before giving her to me and after threatening to post the story on social media and lots of fighting words exchanged, she refunded me $300.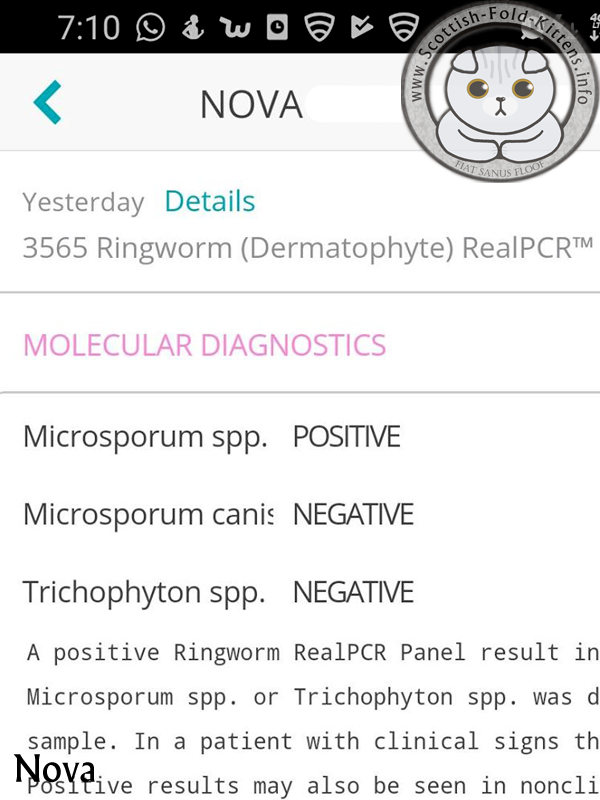 I reviewed her vet certificate that was given to me the day I picked her up and saw two things: the name on the cert did not match the breeder's name 2. Nova had been given a clean bill of health; this meant she did not have an infectious disease. I was confused because Nova was taken there only a couple of days before I received her and there was no way that a vet missed the scabs all over Nova's body, and they do not just appear overnight. I called the vet and they verified that yes, this woman brought a lot of kittens in but they can not verify that the cat I received, and the cat they saw, were the same.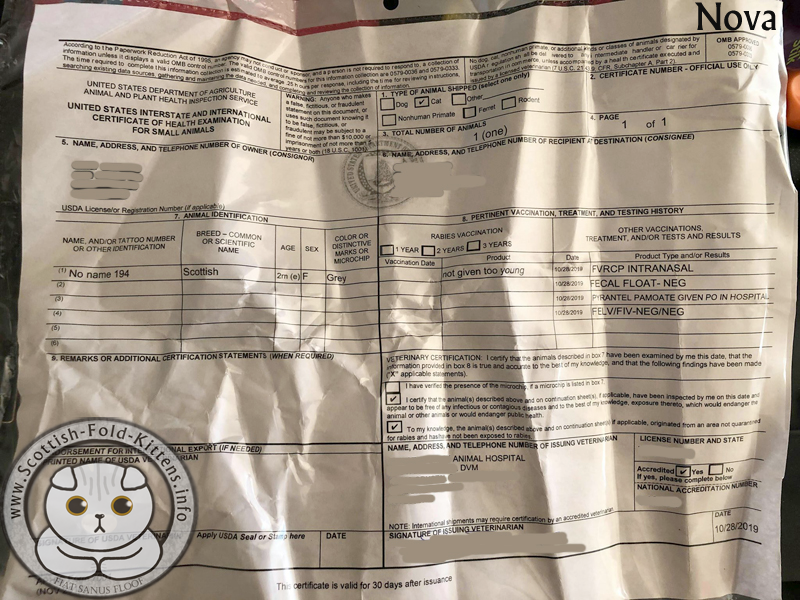 This is when Nova's health began to diminish. She started to have URI symptoms. Coughing, sneezing, lethargy.
I took her to the vet 4 times in 2 weeks and she just kept getting worse and worse. She stopped eating, her congestion kept her awake, she had a jaw problem, and she was losing weight rapidly.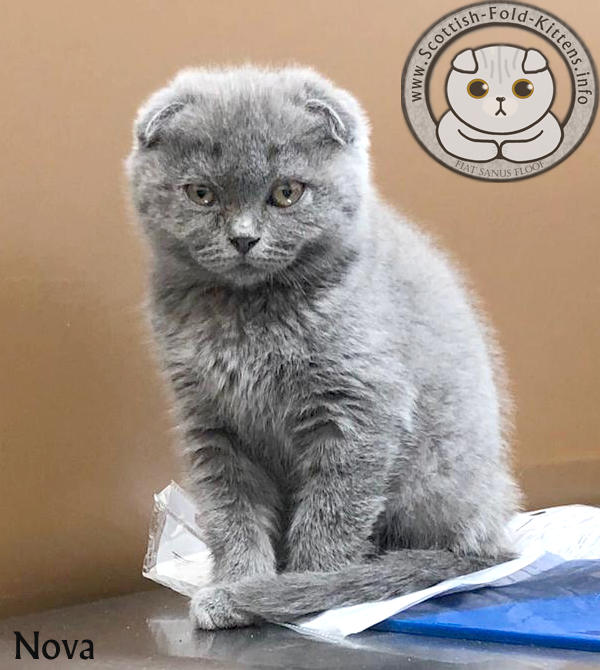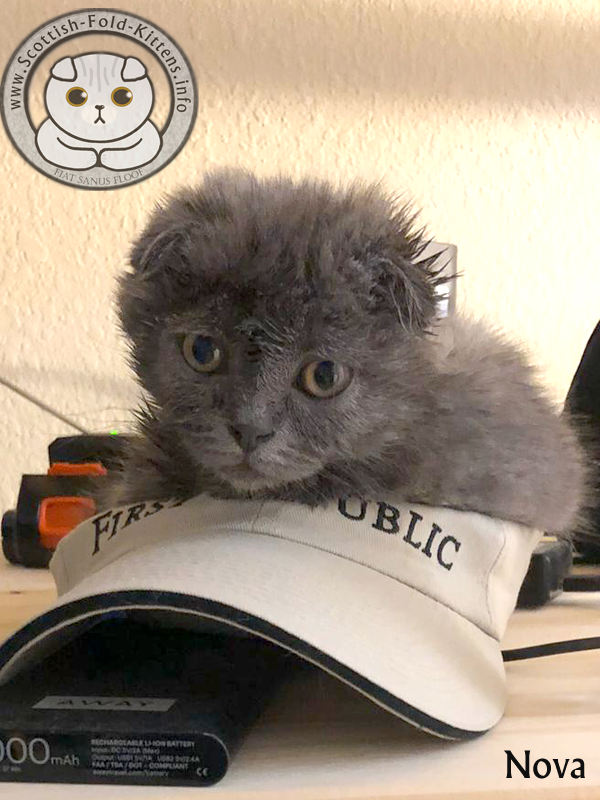 The entire time I was in contact with the breeder and she took zero responsibility, and did not offer any help. As a matter of fact she told me that if I wasn't happy with the kitten I could send her back. I told her over and over again that I would not send the kitten back because she would simply die on the plane and of course I loved her. I took several days off work to care for her and did everything I could to ensure she stayed alive.
Unfortunately, Nova collapsed before my very eyes after having her for only 14 days. I know the vets and I did everything we could to save her but she was too weak and too sick to fight it. Although there was no official diagnosis, the vets suspect feline parvo or FIP since the medications they tried did not work. Both are prevalent in high density environments, such as kitten mills.
The story does not end there. The more I dug around about this breeder, the more I discovered.
she was also operating under a fake name
she had a criminal record
Other people on Instagram received sick and infected kittens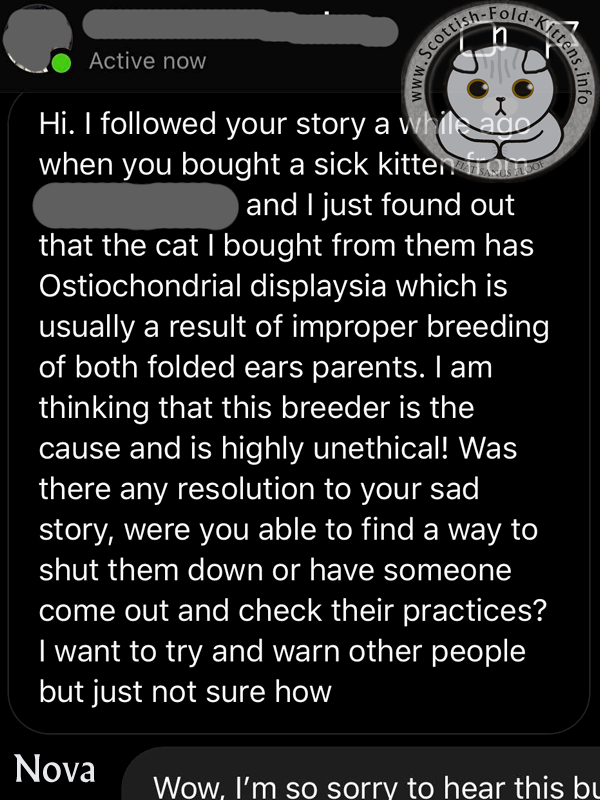 What I hope people will learn from my experience:
I know there are good breeders out there and a right way to do it, but I don't think it makes sense financially for these people to do it the right way. So what I want people to takeaway from this is yes – Scottish Folds are extremely cute, but the issues that come with most of them is not worth it. You and the cat will suffer. I put a Scottish Fold alert on Pet Finder and there are surprisingly a lot that come through – they get adopted quickly but it is a great alternative; an older cat who you get for a small price. Yes, they may still have issues, but at least they are past the kitten phase and your money does not fund these bad breeders.
---
---
Note from Barbara Lynne
When I saw Nova's story on Instagram, it made me cry. Especially the videos of this poor, pitiful kitty racked with coughing fits were hard to watch. And that she didn't make it, that all she ever knew in her short life was suffering – it just wasn't fair. 😿
I immediately contacted Sabrina and told her that I wanted to share Nova's story on this website. It took a while before everything was ready – and then the Coronavirus hit. With what people are going through now – losing their jobs, afraid of infection, even losing loved ones – at first I decided to wait with releasing such a sad story. I thought people needed a break from bad news.
Well, today (May 2, 2020), I found out that yet another kitten from this same horrible "breeder" died, in very similar circumstances. This woman in Orlando, Florida has not slowed down her kitten factory in the least. So we have to get the message out, even now. Especially now, in fact: since we are having to stay home more, more people than ever are looking for a furry friend to share their lives with.
Here's what we can do:
My tip: Find a good breeder – someone who is a member of a reputable association, someone who knows their stuff and is known on the cat show circuit. Or someone who is highly recommended in an online community, such as in a large Facebook group with hundreds of members. Because these are the breeders who have accountability for their actions. People know who they are and they have a reputation to lose. You should contact other members of the group privately who have bought kittens from them and get the real story.

Always ask to view both of your Foldie's parents – in advance via video chat before you commit to buying your kitten. Your kitten should live with its mother and siblings until adoption day – at the age of at least 12 weeks, better 14 or 16 weeks. Look for that one parent has straight ears and that none of the cats are kept in cages.
And of course The Checklist can serve as a guide when choosing a breeder. If you have any questions, please join the Facebook Group Scottish Fold Info Community for support. 💜
And, last but not least, please share Nova's story. It's painful to read, I know. But it might make someone think twice about who they are buying their kitten from and do their homework, ask around for recommendations and references. I have gathered some recommendations that could prevent this from happening (here, under the heading: My Recommendations for improving the Health of the Scottish Fold Breed).
Please get involved. Because I'm convinced that together we can make a difference. 🎗
---
---